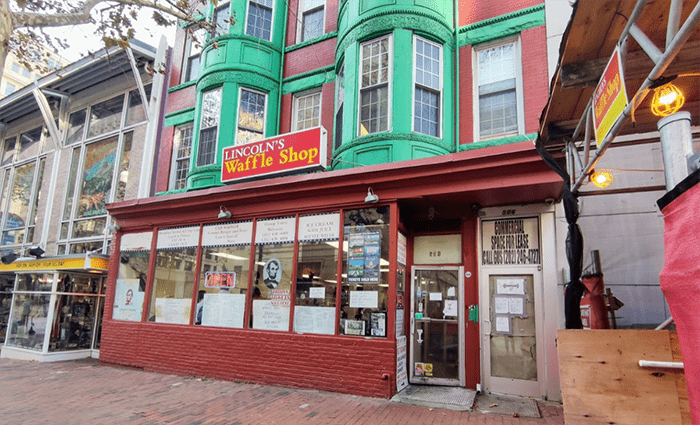 Washington DC icons, the Lincoln Memorial, and the Washington Monument commemorate some of the greatest statesmen in US history. You'll be walking a lot during your visit, so we've put together this list of our favorite local spots in case you get hungry during your visit!
If in DC this is the place to definitely want to read about the best places to eat near the White House!
Top 10 restaurants near Lincoln Memorial and Washington Monument
Lincoln's Waffle Shop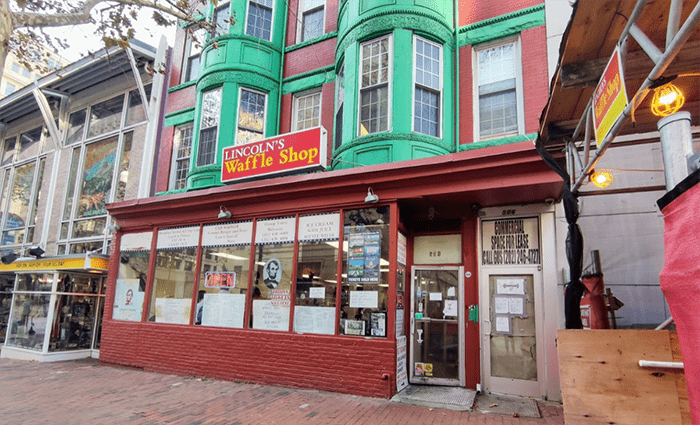 Photo courtesy Lincoln's Waffle Shop
$ | Cafe | Open early
Lincoln's Waffle Shop, open early and serving an affordable breakfast in the heart of DC, is the ideal place to wake up to any capital city tour. This tiny cafe is located in a converted DC brownstone and has a number of cozy alcoves and window tables for its guests. However, we recommend getting a seat at the communal table that extends around the kitchen. It's a great place to chat with a stranger and watch the food being prepared.
You probably won't be surprised at what's on offer here, but when it comes to breakfast, the classics are always best. As the name suggests, the waffles here are fluffy, sweet, and enough to keep hunger pangs at bay for a few hours. The breakfast special is recommended: For around 11 dollars you can get two eggs, sausages and a waffle. It's a great deal!
Address: 504 10th St NW
Hours: Monday-Friday: 6 a.m.-4.30 p.m., Saturday-Sunday: 6 a.m.-3 p.m.
Northern Italy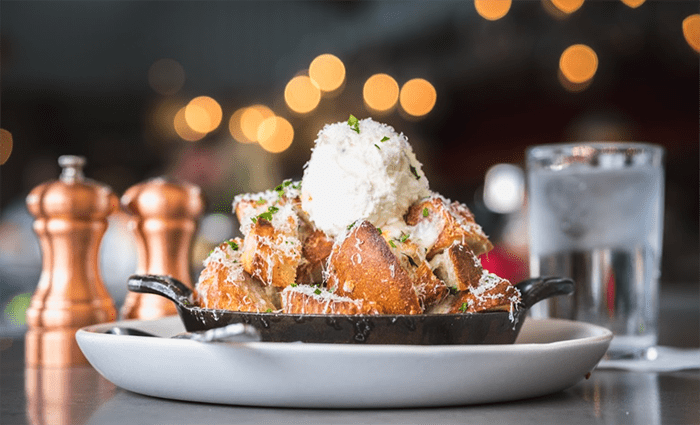 Courtesy photo of Northern Italy
$$ | Italian | Modern
Italian food is best served by those who take the kitchen very seriously, yet still offer an intimate and welcoming atmosphere. Located on Pennsylvania Avenue, North Italia is one of our favorite Italian restaurants near the Lincoln Memorial and Washington Monument for that very reason. Its modern interior updates the look of an Italian restaurant with sleek, mirror-clad walls and exposed canals. However, the food places great emphasis on traditional technology and high-quality ingredients, which make this kitchen something special. It's a nice place to have lunch.
To really round off your meal, start with the white truffle garlic bread. It's covered in ricotta, mozzarella, and herbs and makes a fantastic starter. If you're looking for something tasty and straightforward, you can't go wrong with the Spaghetti and Meatballs or a Meatball Sub. Those who prefer something a little more sophisticated should try the strozzapreti, which is made with chicken, roasted mushrooms, spinach, roasted pine nuts and parmesan cream. For just $ 20, it hits the spot without putting a strain on your wallet.
Address: 2112 Pennsylvania Avenue NW Ste 102
Hours: Sunday-Thursday, 11 a.m.-9 p.m., Friday-Saturday: 11 a.m.-10 p.m.
The capital grill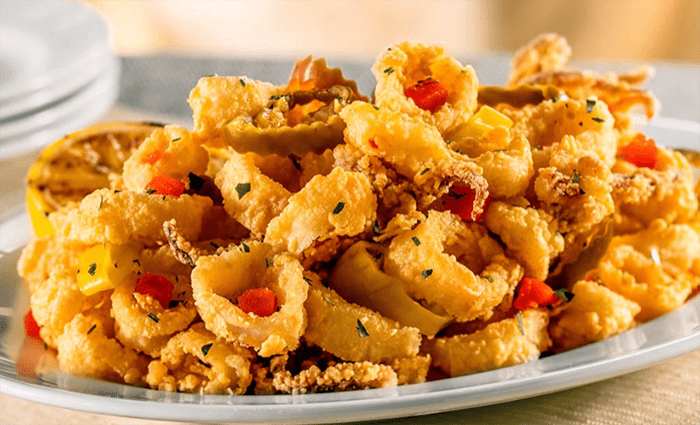 Photo courtesy The Bombay Club
$$$$ | american | Elegant dining room
When it comes to ambience and fine dining, The Capital Grille on Pennsylvania Avenue is one of the top restaurants near the Lincoln Memorial and Washington Monument. Feel like the upper class of DC society in the elegant dining room, outfitted with mounted elk heads and red velvet seats.
We really love the lobster bisque here. It's an excellent way to start your meal without feeling too filling. Be sure to leave space as the starter portions here are generous and absolutely divine. As a meat specialty, we recommend the in-house filet mignon, served with cipollini onions, wild mushrooms and fig essence. This is one of the best steaks in town. Served medium rare, every piece of this piece is a melt-in-your-mouth experience. The fried chicken breast with shiitake mushrooms and sherry jus is fantastic too!
Address: 601 Pennsylvania Avenue NW
Hours: Monday-Saturday: 11:30 am-10:00pm, Sunday: 5:00 pm-10:00pm
The Hamilton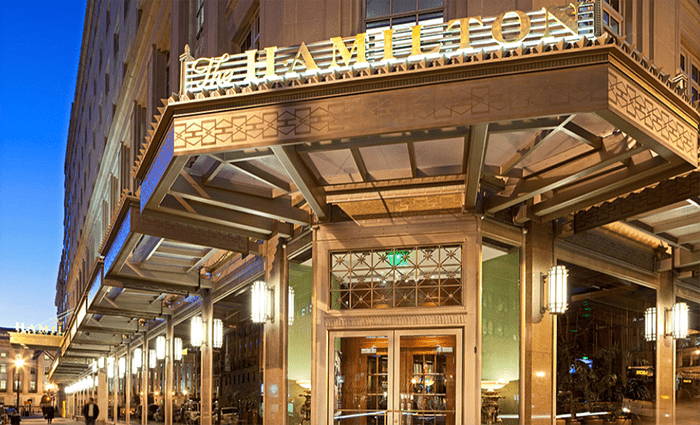 Photo courtesy The Hamilton
$$$ | Versatile menu | live music
Don't let the name fool you. This 14th Street eatery isn't just one of your old upscale restaurants near the Lincoln Memorial and Washington Monument. The Hamilton offers the perfect mix of fine dining with a trendy flair to experiment with. Combined with its late hours and live music, it is one of the hippest places in town!
The menu here is as unique and varied as the city itself, and you want to try as much as possible. There is a lot to try, from sushi rolls to crab cakes and gnocchi. We had the Linguine Bolognese and loved it, but couldn't help but discover a delicious halibut two tables away. Make sure to bring friends because there is just so much!
Address: 600 14th St. NW,
Hours: Monday-Thursday: 11 a.m. – 1 a.m., Friday-Saturday: 11 a.m. – 2 a.m.
Ocean prime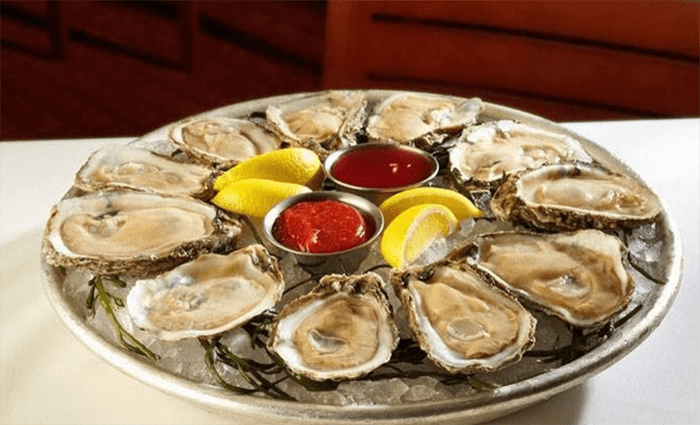 Photo courtesy Ocean Prime
$$$$ | Seafood | Fine dining
There are many great seafood restaurants near the Lincoln Memorial and Washington Monument, but this one is definitely our favorite. We love the neon art deco style sign on the front. We love the intimate but spacious dining room, which is decorated with a tasteful mix of new and old art. And we love the food. We especially love the food.
The sushi options here are very good, but some of us feel that a spicy tuna roll shouldn't cost $ 21. Instead, we recommend some of the main courses like the sea scallops, which are as buttery and tender as any we've tried. The lamb chops are fantastic too, toasted with a garlic and thyme jus, you really notice how seriously this place takes the quality of its ingredients.
Address: 1341 G St. NW
Opening times: Tuesday-Thursday: 11.30am-9pm, Friday: 11.30am-10pm, Saturday: 4-10pm, Sunday: 4-9pm
Zaytinia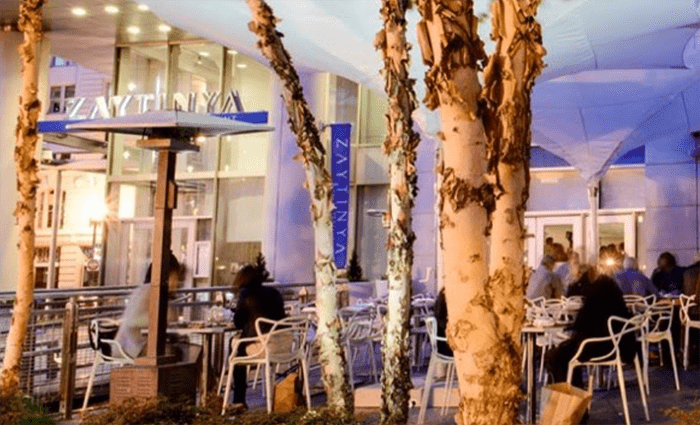 Photo courtesy of Zaytinia
$$$ | Mediterranean | Small dishes
Zaytinia is a place where you really feel cared for and has been serving Mediterranean-inspired dishes in its 9th Street location since 2002. The covered terrace is great for lunch on a warm day, although you can't go wrong with a seat in Zaytinia's modern, airy interior.
Curated by award-winning chef José Andrés, the menu emphasizes small mezze-style dishes that are just wonderful to share. Based on Greek, Lebanese and Turkish roots, the options here mix the classic with the adventurous. Hummus and baba ghanoush are predictably great, but the htipiti dip is standout and features marinated fried peppers and feta. There are many great options to choose from, such as braised chicken youvetsi, lamb kebabs, and beefballs called soutzoukakia. If you really want to try everything, be sure to grab the chef's tasting menu.
Address: 701 9th St NW
Opening times: Monday-Tuesday: 4:00 p.m. – 9:30 p.m., Wednesday-Thursday: 11:30 a.m. – 9:30 p.m., Friday: 11:30 a.m. – 11:00 p.m., Saturday: 11:00 a.m. – 11:00 p.m., Sunday: 11 a.m. – 9:30 p.m.
Cranes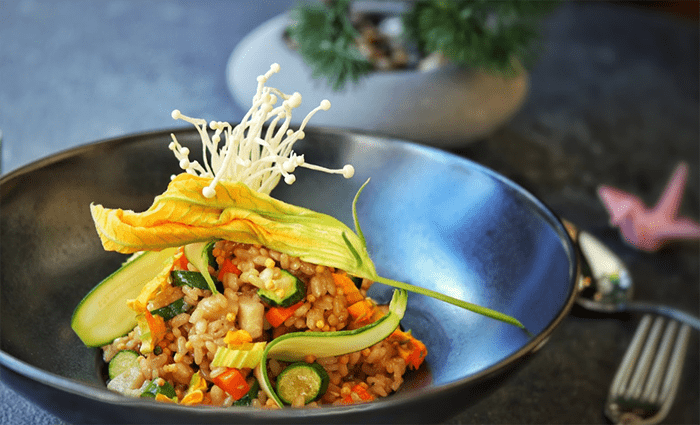 Photo courtesy of Cranes
$$$ | Merger | Spanish and Japanese
Combining the finest cuisine of the Spanish tapas and Japanese sushi tradition, Cranes is certainly one of the most unique restaurants near the Lincoln Memorial and Washington Monument. The interior consists of dark wood, diffused lighting and tasteful modern seating that is both comfortable and refined. You should definitely enjoy a romantic dinner for two here.
As in many Japanese restaurants, the six-course omakase menu is always a good choice. It's not a bad idea to explore the menu on your own, however, as there are definitely a lot to choose from. For a good mix, we recommend Shrimp and Squid Tempura from the tapas menu and braised pork knuckle à la carte. The mix of cultures and flavors is strong and definitely not to be missed!
Address: 724 9th St NW
Opening times: Monday-Friday: 12 pm-9:30pm, Saturday: 12 pm-10pm, Sunday: 12 pm-10pm
China Chilcano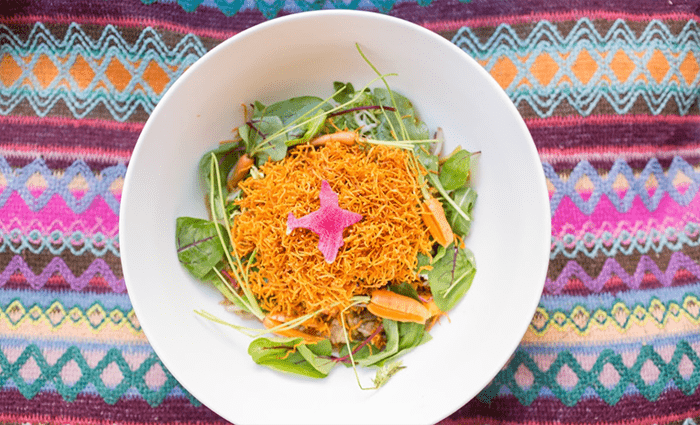 Photo courtesy China Chilcano
$$$ | Merger | Peruvian and Asian
Another place with a flair for fusion and experimentation, China Chilcano brings its Peruvian menu to new places with Asian and Spanish influences. The furnishings here are bursting with color and light, combining light-colored wooden tables and chairs with vibrant wall-to-wall murals. Especially at night, it's a great place to spend a few hours with loved ones.
Start with the dancing yukka. This starter includes golden brown yucca fries with ají amarillo mayo and kabayaki sauce. In one dish, it truly embodies the spirit of China Chilcano's eclectic menu. Guests looking for a killer combo should try Ceviche Nikkei with Chicken Siu Mai Dumplings. The raw big eye tuna and the soy cured egg yolk go perfectly with the steamed dumplings. And for dessert, the Peruvian classic made from sweetened condensed milk pudding called Suspiro Limeña is just the thing.
Address: 418 7th St NW
Hours: Thursday: 4pm – 9pm, Friday-Saturday: 4pm – 10pm, Sunday: 4pm – 9pm
Rasika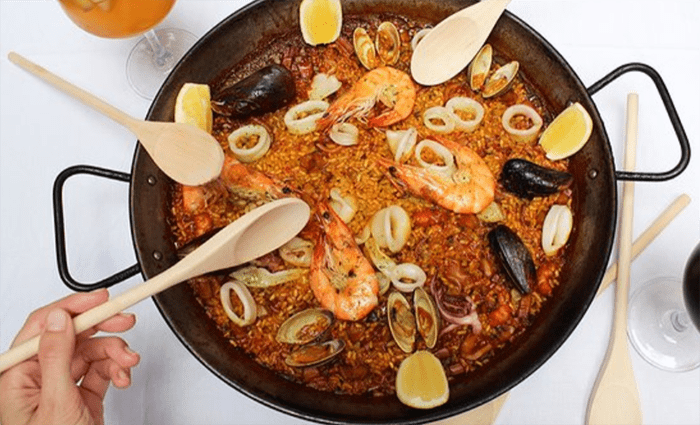 Photo courtesy Rasika
$$ | Indian | Modern
You may think you know Indian food, but the D street spot known as Rasika is here to challenge your assumptions. With dining both indoors and out, and sleek decor with lush floor-to-ceiling curtains and aged wood paneling, it's certainly high-end. The service and kitchen approach is nothing but homemade!
What makes Rasika great is the willingness of the chefs to use DC's local ingredients. Options like the Dover Sole Chutney Wala have their roots in East India but reach just as many American sources for their flavor. With this in mind, we recommend the Red Snapper Polichattu, served with curry leaves, green chili and lemon cashew rice. It was so good we ordered extra to bring it back to the hotel!
Address: 633 D St NW
Hours: Monday-Friday: 11.30am-2.30pm, 5pm-10pm, Saturday: 5pm-10.30pm, Sunday: 11.30am-2.30pm, 5pm-9pm
Elephant & Castle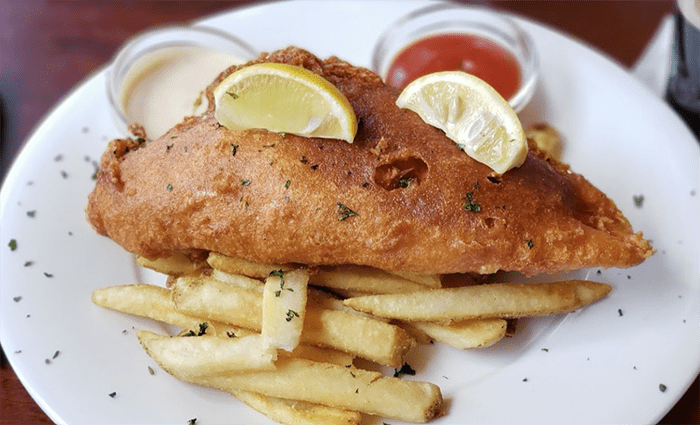 Photo courtesy Elephant & Castle
$$ | British | Pub atmosphere
Open late seven days a week, Elephant & Castles mashed British cuisine and the lively atmosphere is sometimes just what you need after a long day in the country's capital. Despite the pub food on offer here, both indoor and outdoor seating retain a refined sensibility. Think polished oak tables and comfortable leather seats, but also widescreen TVs and ketchup bottles at every table.
It's home cooked so you probably have a better idea of ​​what you like than we do. Still, we definitely recommend the fish and chips which are some of the best we've eaten outside of London. A classic burger is a reliable choice, but consider the buttered chicken. Served with curry, tomato and cream sauce and basmati rice, it is enough food to feed two.
Address: 1201 Pennsylvania Avenue NW
Hours: Monday-Sunday: 11: 30-22: 00
This is our list of the best places to eat near the Lincoln Memorial and Washington Monument. We hope it will be useful during your visit!